Description
Duet is a hypnotic arcade action game with a mesmerizingly beautiful soundtrack by Melbourne composer and Gotye multi-instrumentalist Tim Shiel.

Elegant and minimal, Duet asks players simply to navigate two orbiting spheres past an increasingly complex maze of falling obstacles. As the difficulty increases, the tension mounts, and a peculiar narrative unfolds.

Tim Shiel is a composer/producer based in Melbourne. Tim is known to some as Faux Pas, the moniker under which he released a steady stream of constantly shifting electronic music for many years. He is also known for his work as a broadcaster at Melbourne independent radio station 3RRR FM, and for his recent role as multi-instrumentalist in Gotye's live band. His passion for gaming and his fluid approach to composing have led him to team up with local game development studio Kumobius, to provide the soundtrack and in-game sound design for their minimalist new mobile game, Duet.
History
Duet has been an incredible success for us so far both critically, commercially and personally. The game's narrative has resonated with players and we've blown away by the response. We received emails telling us how the game helped people think differently about the world and helped them get through tough times -- this is something we never imagined our game could do. Tim Shiel conducted a live orchestral performance of Duet in Australia in which tickets completely sold out. Lastly, it has been our most successful game as a studio so far with revenue now in the 7 figures range.
Features
Over 140 challenging stages full of elegant obstacles and features to keep you on the edge of your seat.
An outstanding soundtrack by Tim Shiel, his debut to the video game world.
Simple two touch control – left or right thumb to spin.
Entrancing visuals fit the mood and audio of the game perfectly.
Unlock an endless Survival mode for high score delight.
Strange and wonderful narrative that will keep you guessing.
Every mistake leaves a mark; you will paint the walls with your failures.
Artwork
Logo & Icon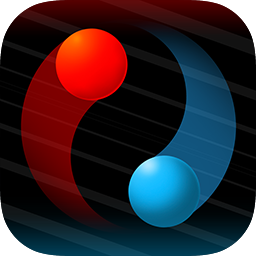 Awards & Recognition
"Intel Level Up: Grand Prize" Seattle 2014
"Intel Level Up: Best Action" Seattle 2014
"Intel Level Up: Best Audio" Seattle 2014
"IGF China: Best Game Design" Beijing 2014
"AGDA: Best Game Design" Melbourne 2014
"AGDA: Best Audio" Melbourne 2014
"PAX 10 Indie Showcase" Seattle 2014
"PAX East Indie Showcase" Boston 2014
"Freeplay Best Design Finalist" Melbourne, September, 2013
"Freeplay Best Audio Finalist" Melbourne, September, 2013
About Kumobius
Boilerplate
Kumobius is a 3 person Australian game studio created by brothers Tom and James Greenaway with the incredible Ivan Neeson.
More information
More information on Kumobius, our logo & relevant media are available here.
Duet Credits
Ivan Neeson
Kumobius
Tom Greenaway
Kumobius
James Greenaway
Kumobius
Owen Thomas
Kumobius
Tim Shiel
Music + SFX
presskit() by Rami Ismail (Vlambeer) - also thanks to these fine folks