Description
Time Surfer follows the last surfer travelling through the galaxy, haunted by an inevitable, destructive force: the end of universe itself. The surfer's only defense? He can cheat death by rewinding time.

Time Surfer mashes up two very different game ideas to make something new: Tiny Wing's simple physics-based slingshot gameplay and Braid's mind-bending time reversal. The result? A twitch-based, time-rewinding, amped-up ride across the fabric of time and space.

Can you outrun the end of the universe?
History
Time Surfer's origins started with Ivan playing a NES emulator. While playing old platformers he used the built-in rewind mechanic available in many emulators to fix any mistakes he made in Bowser's castle.

Ivan jokingly suggested that Jetpack Joyride should have a time rewind feature. Within two days we had a prototype of Jetpack Joyride up and running with time rewind. The results of this experiment? Jetpack is boring as hell with time rewind.

However, after further another 2 days of experimenting we had an interesting conclusion: Tiny Wings with time rewind is awesome. The end result? Time Surfer was born.
Features
Rewind time to fix your mistakes and perfect your surfing – use your rewind power to cheat death, surf the perfect curve, or thread a path through obstacles and enemies – just don't let it run out!
Stomp on aliens and asteroids, avoid spikes and pits – the fabric of time and space is a dangerous place. Stomp on enemies to get speed boosts and steer clear of the deadly spikes and pits to avoid an untimely demise.
Heaps of Special Surfers to unlock – including a police box, a time-travelling car, the monkey king on a cloud and even a cameo from Emilio from Bean's Quest.
Unlock pets to help your chances – Unlock cute pets with special abilities. These little friends will join your surf and give you crazy, new abilities!
80's pop-culture on full display – psychedelic visuals backed up by a pumping chiptune soundtrack and numerous references to 80's icons.
Hell Zone mode – turns the difficulty up to 11 with a spike-infested hellscape. For those who really love a challenge.
Artwork
Logo & Icon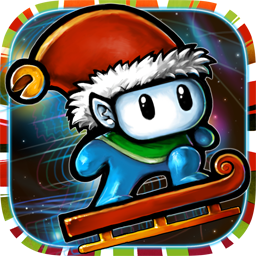 Awards & Recognition
"Appeared in Humble Mobile Bundle 2" September, 2013
"PAX East Indie Showcase" April, 2013
"Freeplay Technical Innovation Finalist" September, 2013
About Kumobius
Boilerplate
Kumobius is a 3 person Australian game studio created by brothers Tom and James Greenaway with the incredible Ivan Neeson.
More information
More information on Kumobius, our logo & relevant media are available here.
Time Surfer Credits
Tom Greenaway
Kumobius
Ivan Neeson
Kumobius
James Greenaway
Kumobius
Derris Kharlan
Music
Flashygoodness
SFX
Jessica Paulin
Marketing
presskit() by Rami Ismail (Vlambeer) - also thanks to these fine folks